Vasu Nambiar - Media Manager (Buying)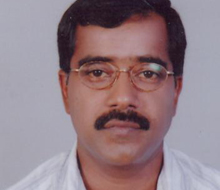 Vasu considers Media as a rewarding and a challenging career specifically that he has been with the group since 1998.
He had a fruitful journey which made him very focused and simply honed his craft.? He is responsible for the company's buying/negotiating for its Media, supervises and implements any campaign ventures; he scrutinizes every detail to achieve the Company's highest standards.
In India, the sport Cricket, is a big crowd beholder and growing up, he was fascinated with the said sport. Thinking way back, if he didn't land a job in media, maybe he would have been a Cricket commentator.
As a whole being, Vasu is emotional, compassionate, reserve and a strong willed person.