Suhail Kambriss - Chief Operating Officer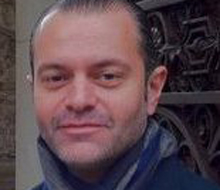 Our Chief Operating Officer who is taking the lead on Equation Media in the region, Suhail started his media career back in 1998 at D'Arcy Dubai in the planning department, and instantly got hooked to media, he moved to Optimedia/Publicis in 2001 as a planning manager, and in 2005 joined MCN/IPG as Regional Buying Director.
During the past 7 years he was with Publicis / VivaKi among Starcom MediaVest and Zenith Media, where he performed the past 3 years as COO MENA for Zenith Media.
During the past 18 years Suhail lived and worked in diverse markets like Emirates, Saudi, Egypt and Lebanon, which gives him a great edge and perspective in our industry.

Some of the clients that Suhail handled and worked on over the years are P&G, Kraft, Masterfoods, Edita, Ahram Beverage, Hyundai, Group Bell, Carrier, LG, Dabur Amla, Egypt Telecom, Egyptian Food Bank, Red Bull, Samba, J&J, Aujan, Patek Philippe, Gulf Air, Credit Suisse, F1 BHN, Sony, Air Arabia, Unilever, Etisalat, Damac, S.C. Johnson, Turkish Tourism, Cyprus Tourism, Samsung, Cadbury, Newzeland Milk, Swatch Group, AUDI M.E, Group SEB, Burger King, Panasonic, Bridgestone, British Airways, Emirates Sky Cargo, Honda, HP, Sharp, Ferrero Chocolates, General Motors, Porsche M.E, Philips, Lancome, Saudi Telecom, BMW, Nestle, ADCB, L'Oreal and Reckitt Benckiser
Due to his success in our industry across the region and due to his exceptional reputation Suhail was chosen in 2011 by Pearson global schools to be one of the managers interviewed in the MENA region for the Robbins Arab World Edition Management book which is now used at American University of Beirut and other universities in business, management and marketing courses.
Suhail is also an automotive enthusiast which you cannot miss as soon as you walk into his office.
?